Our application deadline has passed. Applications decisions will be sent via email on March 15th. 
This camp is intended for students who are excited to learn about the brain, meet other students from San Francisco who share that interest, and interact with students and faculty at UCSF. We hope you leave this camp not only with the knowledge of the brain and its functions but also with information on how to apply to college, and an understanding of different career options in medicine and science!
1. Current high-school sophomore or junior
2. Grade of C or better in biology class
January 1st 2018 - Applications open
March 1st 2018 - Applications closed

July 30th - August 4th 2018 - Camp dates

July 25th 2018 5:30p-7:00p - Orientation (mandatory, dinner included)

​​
Step 1 - Download Student Application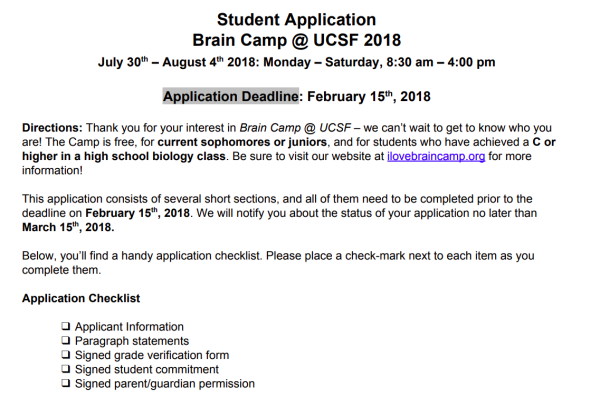 Download Student Application
Step 2 - Submit Student Application
Option 1: submit completed application online

NOTE: you will need to print out the application, make sure you have everything filled out including signatures, then upload application as a .pdf .jpeg or .doc file through the link below. 
Submit online student application here

Option 2: submit completed paper application via mail
San Francisco, CA 94143-0934
Option 3: submit completed paper application via fax

 (415) 502-6400    

We look forward to receiving your application. Please contact us by phone or email if you have any questions!

 - Brain Camp @ UCSF Coordinators